4 Best Practices to a Happy Customer Engagement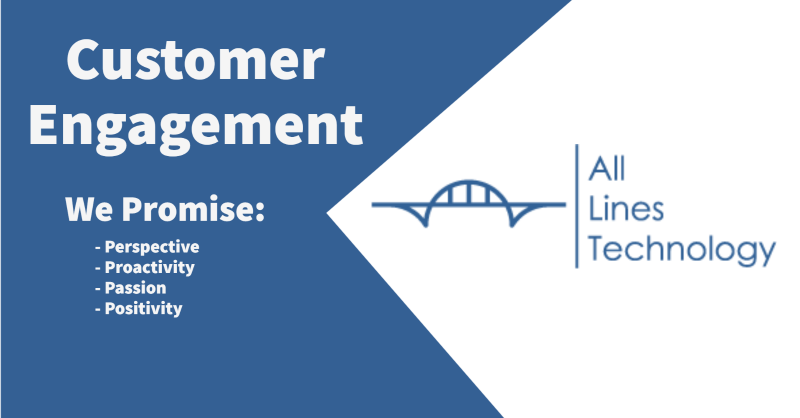 Everyone knows the familiar 90's hit, "Ice, Ice, Baby," where Vanilla Ice is iconically quoted "If there was a problem, yo, I'll solve it." However, when it comes to a customer's needs, WHO is that person finding those problems and adjusting processes?
Enter scene: Engagement Management. For those who aren't familiar with what Engagement Management is or want to know how Engagement can benefit your relationship with All Lines Technology, this post is for you!
The mission of Engagement Management is to be an empowering force for our customers, focusing on an optimal experience across all client needs. Through a balanced mix of reactive support and proactive maintenance, the benefits of having an Engagement Manager to supplement your support can be felt rather quickly. The core of Engagement Management is a focus on relationships.
When assessing the needs of a customer, there are four main principles that I've dubbed "The P's of Engagement." Let's dig in!
Perspective
Perspective is the first principle of engagement, and frankly, the most important. With perspective comes empathy, understanding, and a drive to find a solution.
There are many instances where perspective is required when engaging with customers through both proactive and reactive measures. To "engage" means to "participate or become involved in," and how can an effective engagement manager become involved in a customer's issue without applying perspective?
When supporting a customer's technological needs, there is a broad range of experience that our customers tend to have. Engagement can be involved in a customer environment where, as their MSP, we are backseat support to a full technical team. On the other hand, we also have customers where All Lines is solely responsible for their IT environment and are trusted to lead their organization through best practices. Understanding the perspective and where the value lies within the engagement through the customer's eyes is of the utmost importance.
Proactivity
What good is dedicated support if they're only going to be reactive?
Reactive support, while handy when there's an issue, does not get to the root of why the problems are occurring or what needs to be done to fix the underlying issues. Common situations – always having issues with the same printer or having seemingly problematic Wi-Fi that's spotty at times, are much better served having a dedicated ally on your MSP's side!
Proactivity comes in many forms – review over past tickets to predict future trends, comparing monitoring alerts to note opportunities of service quality improvements, or something as simple as reaching out to the customer to check in. Surveys to inquire satisfaction in a product and feedback go a long way to providing the value-added proactivity that a customer craves in a business relationship – especially when that company is in charge of their technological needs!
Passion
Engagement is all about impact – and you can't impact a customer's account or relationship as their provider without passion. With passion comes the drive to continue to push through adversity, and face challenges head-on, alongside the ever-changing industry standards.
It may seem dramatic, but there truly is so much adversity that customers can face when it comes to technology. From Cybersecurity threats and trying to decode those pesky phishing emails, to being aware of what software on your computer needs to be updated, we understand that it can be rather stressful! With eagerness, applying engagement management can alleviate that stress and give customers not only an escalation point for those issues, but also an opportunity to lead the charge to fix those issues.
Positivity
Albert Einstein is quoted in saying "No problem can be solved from the same level of consciousness that created it." And truly, there's no truer quote to recapitulate the meaning of Engagement and explain the root of its core function.
The driving force of Engagement Management is to not only solve problems, but to create change. Change in process, functionality, workflows, automation – all of this works together to exemplify the above three qualities to create real, value-added change. However, without ditching the negativity and approaching issues with a positive and fresh mindset, there's little opportunity to create improvements.
So you see,
Engagement Management can exponentially benefit an organization. While short term improvements are great and often needed, it's about the big picture when assessing the value associated with engagement.
Though I may not be a 90's pop star making platinum hits, I can say that engagement works tirelessly to say "If there was a problem, yo, we'll solve it!" All you need is Positivity, Proactivity, Perspective, Passion – oh, and All Lines Technology!
Written by: Corina Pastore